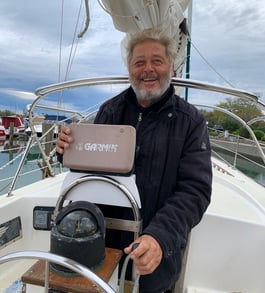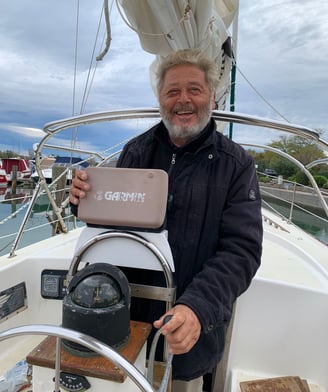 Résidence : Trieste Italie
Expérience : I sailed mainly in the Adriatic Sea and Mediterranean. The last solo sailing: from 1 August to 4 November 2022, 8000 nautical miles, Atlantic Ocean and Mediterranean. From Yorktown Virginia USA to Trieste in Italy
Passion pour la voile : the passion for sailing comes from my father and my ancestors, all sailors who worked at sea around the world.
Et le solitaire ? : The passion comes from reading Bernard Moitessier's books when i was a teenager
Motivations pour la Longue Route 2024 : I like to go sailing alone because I feel good with myself. I'm divorced and even though I have children, nepheus and friends, everyone has their own chaotic city life and doesn't even have time for you. so I don't want to disturb anyone and I live alone. I feel more alone among people in the city than in the middle of the ocean.
Quelle préparation avant la Longue Route 2024 : I have a solid boat but to fix. I would like to replace the sails and remove the diesel engine: I don't use it when sailing but only to enter and leave ports. I would like to install an electric motor instead. It all depends if I find a sponsor.
Selon vous, quel sera le plus grand défi ? : I think the hardest part is to stay focused and complete the world tour without the desire to make stops, perhaps at the islands in the Pacific Ocean. A bit like Moitesser did.
Avez-vous l'intention de lier votre défi personnel à une cause sociale ? : I would like to dedicate my challenge to global warming and the pollution of the seas by plastic
Parlez-nous de votre bateau
:

My boat: Nome: Lilly Morgan west indies 38' 1977 Hull id HYA380560877 Register in Delawere USA n. DL1115AP